NEWSLETTER SIGN-UP
testimonial
Warehousing & Light Industry Leasing.
Warehousing & Light Industry Leasing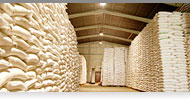 The KHV warehouse complex is a key component of our integrated logistics and transportation systems. Our warehousing and light industry leasing properties total
over 96,800m3
and can be leased in part or in total for short or long term requirements.
All indoor, weather-proof capacity is suitable for storing grains, fertilizers and other bagged goods, iron, steel, lumber and wooden products, including furniture, shipping containers, machinery, liquid products in drums or tanks, etc.
The complex has a total of
almost 7,700m2 floor space
which can be fitted out for light industrial uses. Competitively priced long or short term contracts can be negotiated for use of these buildings as light industry manufacturing plants.
The complex has 7 individual, self-contained buildings and 1 outdoor storage area:
Building
Dimensions
Area/Volume
6 Medium Buildings
50m x 15m x 6.5m
Total 750m2 / 4,875m3
1 Large Building
105m x 30.5m x 12m
Total 3,202.5m2 / 38,430m3
1 Open Storage Area
3,900m2
All warehouses and light-industry buildings have:
Electricity
Water
Lighting
Client-controlled lock-up and security